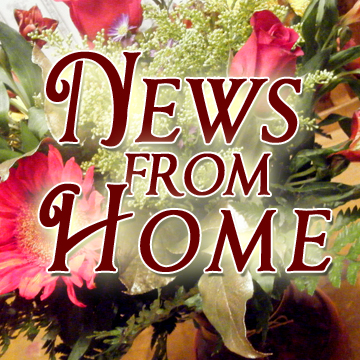 NEWS FROM HOME
Hellos and Goodbyes, by Cindy McDermott
Back when SALT Magazine was in printed format, I use to regularly update our readers on our personal comings and goings in an article titled, "News from Home". We'd like to do that for our website readers, as well. And this month I'd like to do that through a series of hellos and goodbyes.
Hello, Olivia and Ryan! This past March we welcomed our newest grandchildren to our family. Olivia is the first child of our son William and his wife Hyoeun. She has dark hair and her mom's eyes and the sweetest smile, when she chooses to share it with us. Ryan was born exactly one week later. While all babies are miracles, we believe God performed an additional miracle in his life. Making a long story quite a bit shorter, the doctors didn't think his mom was carrying a viable pregnancy. When his dad (our son Michael) asked for "one more ultrasound" before they did a D&C, it was then that they saw the baby – an eight week old precious baby (Ryan!) with a beating heart – unseen on earlier ultrasounds! The story still sends shivers up and down my spine! Ryan shares his sister's birthday and his brother's eyes, but he is still his own person, and we look forward to watching that Ryan personality come out.
Hello, rites of passage! Earlier this year Bridget turned sweet 16, got a job, and is learning how to drive. She is our eighth child behind the wheel. With more to follow! (That gives a parent something to think about!) This past month Keenan turned 21 and is now legal to do all sorts of things, although I trust her to bypass many of them. To celebrate, she went ziplining for the first time. I'm not sad to say I missed it.
Hello, new decade. This past May Jim and I celebrated our 30th anniversary. It sounds so long but has seemed so short. When you get married you just assume you will have a lifetime together. But there is no guarantee of that. But God has been so gracious and kind to me, to give me 30 years and counting with my very best friend. To celebrate we went to a Bed and Breakfast near Kansas City, MO. (We love B&Bs!) Happy anniversary, my love!
Goodbye, Shannon! Just a couple weeks ago we drove Shannon to West Virginia where she will be attending a university on a full scholarship. We are excited for Shannon and these new experiences in her life, but are quite sad for us. Even with our full house, things will never be the same without her. How wonderful to have emails, texts, and Facebook!
Hello, school year. Having many children, we get the variety of teaching one child how to read while teaching another high school chemistry. Someday we'll have the luxury of forgetting things such as the quadratic formula and how the west was won, but not yet. And that's okay with us.
Hello, routine. After what seemed a busy summer, it is nice to be settling back into a routine, although a slightly new one, with how things constantly change in a family. There is a calmness and security to repetition. The status quo doesn't have to be a bad thing.
Goodbye, summer. I know it's still in the high 80s out there, but the sun rises later and sets earlier and with school back in session, I've lost that summer feel. I never do like it when summer ends. Winter is on its way and my family knows how much I love being cold! (Not.) But God has planted beauty and special blessings in each season, so as I start thinking about jackets and coats, I will try to concentrate on God's goodness and faithfulness – His faithfulness which is as sure as the seasons that change year after year.
Hello, football season! Professional football is by far the most followed sport in our family. Mostly a bunch of cheeseheads, we look forward to the games and, hopefully, to the Super Bowl as well. Several members of the family have their own fantasy football league that they keep up with. The only thing I need to keep up with is the Packers. Go, Pack!
And, hello readers! We are excited that you have found us and hope you enjoy your time on this site. May everything you find here be to your encouragement and God's glory!